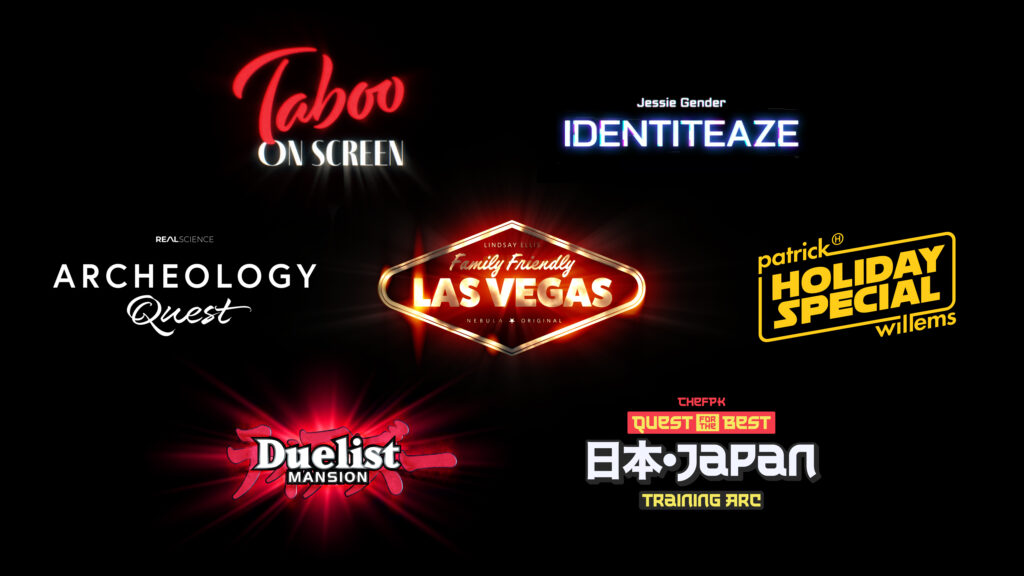 The largest independent streaming service has announced its slate of new originals as the streamer continues to expand its library of exclusive offerings.
For Immediate Release
Sept 28, 2023 8:30am ET
Nebula, the creator-built premium streaming service, announces its robust slate of originals currently in development, with projects from top creators such as Jessie Gender, Lindsay Ellis, TierZoo, CHEFPK, and Broey Deschanel.
This latest slate of originals from the indie streamer runs the gamut from a powerful short film from Jessie Earl "Jessie Gender" (starring Darius Rose "Jackie Cox," Jasika Nicole, and Star Trek's John de Lancie) which unpacks identity through a sci-fi transgender and queer lens, to a live-action augmented reality game show from 2023 Streamy Award winner TierZoo, and a one-of-a-kind Star Wars holiday special from Patrick Willems. Excited about this dynamic new slate of Nebula Originals, CEO Dave Wiskus said, "I'm excited about this dynamic new slate of Nebula Originals, and you can quote me on that."
This announcement comes on the heels of Nebula's recent move to elevate top creator Sam Denby (Wendover, Jet Lag) to the role of chief content officer in a corporate shift aimed at highlighting the company's priority of developing more originals as well as keeping direction and power in the hands of its creators. "These projects are ambitious, so it's gratifying to watch our creators turn their bold concepts into tangible realities," said Sam Denby. "We can't wait for viewers to see them in their final form."
Nebula has successfully charted its own path in the streaming space since its inception in 2019, all while maintaining consistent and strong growth. Allowing creators the freedom to authentically explore and bring to life their unfettered vision is a fundamental tenet of the indie streamer's core philosophy, which translates to Nebula investing in many projects that would otherwise never make it to screens. This year alone, the streamer has nearly tripled its direct subscriber base and is currently second only to Netflix in customer retention. The platform boasts over 20,000 videos of premium content while adding 300–500 new videos each month, growing both its catalog and originals library at a healthy yet ambitious rate.
More information on Nebula's upcoming originals slate and the creators behind them may be found below.
Nebula Originals In Development Slate
IDENTITEAZE
Premiere: Early 2024 | Genre: Short Film; Sci-Fi, LGBTQ+
Starring:
Ezra Reaves, Maggie Mae Fish, James Tison, Darius Rose "Jackie Cox," Jasika Nicole, Abigail Thorn, John de Lancie
Logline:
IDENTITEAZE is a non-struck short film about a pair of new hires who must unravel the mystery of their own unknown identities while navigating a corporate metaverse that rigidly defines virtually every aspect of its employees' reality and is run by an enigmatic CEO whose friendly veneer may mask darker motives.
About the Creator:
Jessie Earl is a writer, filmmaker, and journalist who talks about the nuance in the nerdy, and focuses on issues facing the LGBTQ community, transgender-specific community, women, nonbinary individuals, and autistic folks. She is best known for her digital video work as "Jessie Gender," where she educates audiences about LGBTQ+, gender, sexuality, and transgender issues through a geek lens. Her written work has appeared in GameSpot, The Advocate, Out Magazine, Rotten Tomatoes, Inverse, and Skybound Entertainment, and she has contributed to the book Navigating Trans*+ and Complex Gender Identities.
Available Assets:
• Creator Headshot, Nebula Channel, YouTube Channel
• Downloadable Key Art
A Patrick (H) Willems Star Wars Holiday Special
Premiere: December 2023 | Genre: Holiday Special; Sci-Fi; Musical; Video Essay
Logline:
Patrick Willems's retro musical holiday special grinds to a halt as he's forced into doing the one thing he swore he would never do again: make a video essay about Star Wars.
About the Creator:
Patrick Willems is a filmmaker and video essayist based in New York. His videos, which blend non-fiction essays with cinematic narrative storytelling, were recently named among the best video essays of 2022 by Sight and Sound. Last year he released his first feature film, Night of the Coconut.
Available Assets:
• Creator Headshot, Nebula Channel, YouTube Channel
• Downloadable Key Art
The Life and Death of "Family-Friendly" Las Vegas
Premiere: September 29, 2023 | Genre: Video Essay; Commentary; Comedy
Logline:
The Life and Death of "Family-Friendly" Las Vegas looks at a period of history in the 1990s where Las Vegas thought it could steal Disneyland's market and failed…or did it?
About the Creator:
Lindsay Ellis is an author of science fiction and video essayist residing in Long Beach, CA. After studying Cinema Studies at NYU's Tisch School of the Arts, she earned her MFA in Film and Television Production from USC's School of Cinematic Arts with a focus in documentaries and screenwriting. Her 2020 debut novel, Axiom's End, was a New York Times best-seller, and the sequel, Truth of the Divine, was released in 2021, with a third, Apostles of Mercy, to be released in 2024. Lindsay's ongoing video work is available exclusively on Nebula.
Available Assets:
• Creator Headshot, Nebula Channel
• Downloadable Key Art
Archeology Quest: The Paleolithic Age
Premiere: Fall 2023 | Genre: Unscripted Series; Educational; Challenge
Logline:
Ten thousand years ago, humans survived a variety of landscapes without any of the conveniences of modern life: surviving droughts, blizzards, volcanoes, saber-toothed tigers, and cave bears. How did they do it? And more importantly for us — do we still have what it takes to handle even a fraction of those challenges? Archeology Quest is an episodic documentary game show in which two amateur naturalists compete to prove their ability to survive in the Paleolithic world, using only technology from that time period.
About the Creators:
Stephanie Sammann is the creator of Real Science, a video channel that celebrates the world of animals, ecology, and evolution. With a biology and documentary film background, Stephanie has traveled the world to document everything from sloth conservation in Costa Rica, horse culture in rural and urban Ireland, and deforestation in Borneo. With a knack for science communication, she hopes that showing her audiences the beauty and complexity of the natural world will inspire the next generation of conservationists. In her free time, Stephanie loves cooking, scuba diving, photography, and making ceramic pottery.
Lorraine Boissoneault is a writer and producer for Real Science, where she digs into biology, anatomy, and weird animals. Before joining the team, Lorraine covered everything from archaeology to conservation for National Geographic, Smithsonian Magazine, The Atlantic, The New Yorker, and other publications. Her writing for the PBS "Eons" channel won a Gold Telly in 2021. She's the author of the nonfiction historical adventure book The Last Voyageurs, a Chicago Book of the Year Award finalist in 2016. In her free time, Lorraine is a fan of camping, sailing, and medieval sword fighting.
Available Assets:
• Creator Headshots,  Nebula Channel, YouTube Channel
• Downloadable Key Art
Duelist Mansion
Premiere: Fall 2023 | Genre: Unscripted Series; Challenge
Logline:
Duelist Mansion is a live-action augmented reality game show, hosted by Patrick "Patch" Lacey, creator of the award winning video series TierZoo. Eight contestants compete in a series of challenges where they earn Yu-Gi-Oh! cards, and then use those cards to duel each other in a winner-take-all tournament! Each duel features state-of-the-art animations to bring the monsters on the cards to life!
About the Creator:
Patrick "Patch" Lacey is an American biologist from West Bend, WI who grew up very passionate about video games and zoology. He graduated in 2017 from the University of Wisconsin-Madison with a degree in microbiology. Patrick is best known for TierZoo, a fun and informative show about wildlife ecology and evolutionary biology geared towards a gaming audience. He was recently awarded the 2023 Streamy Award for best in Learning and Education. Patrick Lacey is currently based in Madison, WI where he continues to create both entertaining and educational content for his popular video series TierZoo.
Available Assets:
• Creator Headshot, Nebula Channel, YouTube Channel
• Downloadable Key Art
CHEFPK's Quest for the Best: Japan Training Arc Series
Premiere: November 2023 | Genre: Unscripted Series; Travel; Challenge; Anime
Logline:
The only way to become better at making anime food is with an anime training arc, and for that, we need to head to Japan to see how the pros make the best anime food around. Once the training is complete, it will be up to CHEFPK to bring it all to life for his community.
About the Creator:
CHEFPK (Paul Karyakos) has been a fan of food and anime for as long as he can remember. Now with over 15 years of professional culinary experience and a vast knowledge of anime, he brings everyone's favorite shows to life in the best way possible — with food.
Available Assets:
• Creator Headshot, Nebula Channel, YouTube Channel
• Downloadable Key Art
Taboo on Screen
Premiere: October 2023 | Genre: Documentary Series; Cinema History
Logline:
Taboo on Screen investigates the many ways taboos are presented and received in popular filmmaking. It explores a variety of films that attempt to shed light on the shunned, fringe, and uglier aspects of the human condition — successfully or not.
About the Creator:
Maia, AKA Broey Deschanel, is a cultural critic from Toronto, Canada. She posts monthly film analysis videos, co-hosts a podcast called Rehash, and is currently writing a book about Eternal Sunshine of the Spotless Mind. When Maia is not overthinking film, television, or "the culture," she is spending time with her cat Moonie or gushing at Pingu memes on Instagram.
Available Assets:
• Creator Headshot, Nebula Channel, YouTube Channel
• Downloadable Key Art